The Municipality of Athens recently unveiled another pocket park as part of efforts to create more green spaces in the Greek capital and improve the quality of life of its residents and visitors.
The new green space in located the neighborhood of Patisia ( Vizyinou and Karkavitsa streets) and is the eighth addition to the municipality's network of pocket parks that aims to turn Athens' abandoned areas into lively colorful spots.
The new bioclimatic park covers an area of 230sqm and includes an environment-friendly system for the better usage of rainwater, seating areas, trees and 358 new shrubs consisting of Mediterranean plants and colorful perennial flowers.
The pocket park also features exercise equipment (climbing frame) and solar panels that enhance the area's lighting.
Students of the nearby 142nd Athens Elementary School participated in the initiative by planting the park's first plants.
"Our city is being upgraded through small but meaningful interventions. The new pocket park in Patisia calls on all residents to creatively use this modern safe green area," Athens Mayor Kostas Bakoyannis said.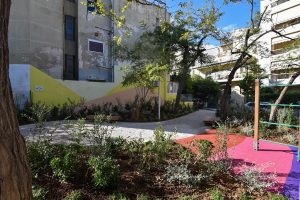 The municipality aims to operate 10 pocket parks by the end of the year.
Article reposted from
Greek Travel Pages